Article written by precisionfluidonline.it on 02/03/2022 – Read the original article
Landfills produce a mixture of methane and carbon dioxide with traces of nitrogen, oxygen and other gases. These gases are extracted from multiple recovery tanks and collected through a network of pipes to a common conduit. Typical plants also involve blowers, pumps, waste vessels, and a torch or oxidizer. The "greenhouse gas" collected can be disposed of or recovered as a fuel source for a cogeneration engine, in order to produce electricity. Accurate measurement of landfill gas flow through this system provides operators with information on the amount of gas extracted to optimize its effectiveness, for reporting to environmental agencies and for carbon credit programs. Accurate flow measurement requires performance in challenging application conditions such as:
Gas of mixed composition
Moist and / or dirty gases
Potentially explosive installation environment
Wide variations in flow rate
Large fluctuations in the temperature of the gas and the environment
Large size of the pipes

Fundamental criteria for the flow meter selection
Precise and calibrated for different compositions of methane and landfill gas
Temperature compensation
No moving parts that become clogged or dirty in the presence of wet and dirty gas
Lower cost and easier installation in large pipes
Wide turndown for accurate and repeatable measurement on a large flow scale
Excellent low flow sensitivity
Approved by the authorities for use in hazardous environments of Division 2 [Zone 2] and often of Division 1 [Zone 1]
Multifunction: flow rate, total flow rate and temperature display output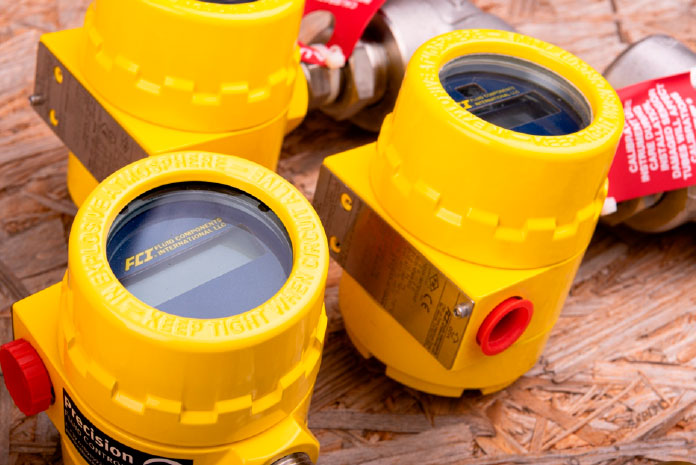 FCI heat dispersion flowmeters, in both insertion and in-line models, are the solution most often adopted by the landfill gas recovery industry and the preferred choice by leading manufacturers of landfill gas collection systems and of torches. With a solid design and a wide selection of products that meet all of the above criteria, it's easy to see why FCI is the ideal tool.
For pipes larger than 2.5 ″ [63 mm]
Model ST51 Insertion Mass Flowmeter
Model ST80 Insertion Mass Flowmeter
Model ST100 Insertion Mass Flowmeters
For pipes larger than 2.0″ [51 mm] and below
Model ST75 in-line mass flow meter
Model ST80L in-line mass flowmeter
Model ST100L in-line mass flowmeter
* FCI Model FLT93 Flow Switches provide level sensing for Knock-Out Pot (LAD) applications…